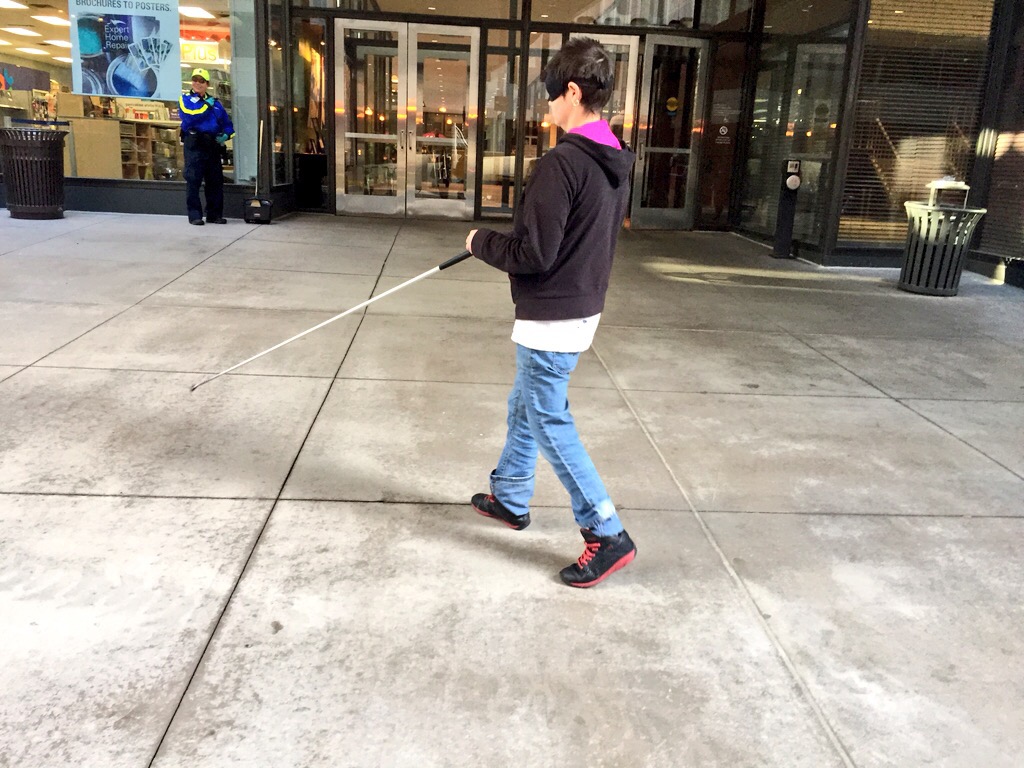 The Blind Teaching the Blind
Leanne DeIuliis's teacher gives her an assignment: find 80 South 9th Street in downtown Minneapolis, and then go there. But she can't read a map or watch the street signs, because she is blind. All she has is her cane.
DeIuliis was born with a condition called optic nerve hypoplasia, so she's been blind since birth. Now she's 20. She's been a student at BLIND, Inc. since early this year and will graduate in November. Then DeIuliis plans to attend college and study medical social work.
Before that, though, she will have to complete the last big assignment at BLIND, Inc.: what's known as a "drop-off."
She will be driven to an unknown location three to five miles from school. Without knowing where she is, she will have to navigate back to the BLIND, Inc. building by herself. On foot.
DeIuliis will only be allowed to ask one question along the way. When she eventually gets back, she'll celebrate by ringing what's known as the "freedom bell." Everyone student and instructor will stop and congratulate her. Every big accomplishment at BLIND, Inc. ends with a bell ringing.
Leanne DeIuliis is just one of the students at the blindness training center in downtown Minneapolis.
BLIND, Inc. stands for Blindness: Learning In New Dimensions, and it attracts students of all ages from around the country.
Students at BLIND, Inc. take classes in home and personal management, industrial arts, communication and technology, and cane travel. Many of the instructors are also blind, and can share first-hand experience and perspective.
"I'm teaching travel because I know what it's like to be scared to cross streets," coordinator for travel and transition Rob Hobson explains. "I know what it's like to depend on other people to get to other places."
The goal is to give students skills to succeed without having to depend on friends or family. They cook with knives. They build with power tools. They cut wood with circular saws. They learn to use iPads and iPhones.
But BLIND, Inc. isn't just about skills, it's also about confidence.
"I can teach skills in two or three months," Hobson explains. Giving the students confidence, he says, takes longer, and lots of repetition.
They also play. BLIND, Inc. takes students on challenging recreation activities. They go rock climbing, dog sledding, hiking, canoeing, and camping.
"The challenges help the students put their skills to practice in real life situations," executive director Dan Wenzel says. "They're also fun."
Students usually take six to nine months to finish the comprehensive program, then BLIND, Inc. helps them find careers or prepare for school.
"You know that when they leave, they are at the best place they can be," Hobson says. "And from there, they are just going to get better … We just get them at a place they can improve on their own."
---
Meet more students and staff of BLIND, Inc.