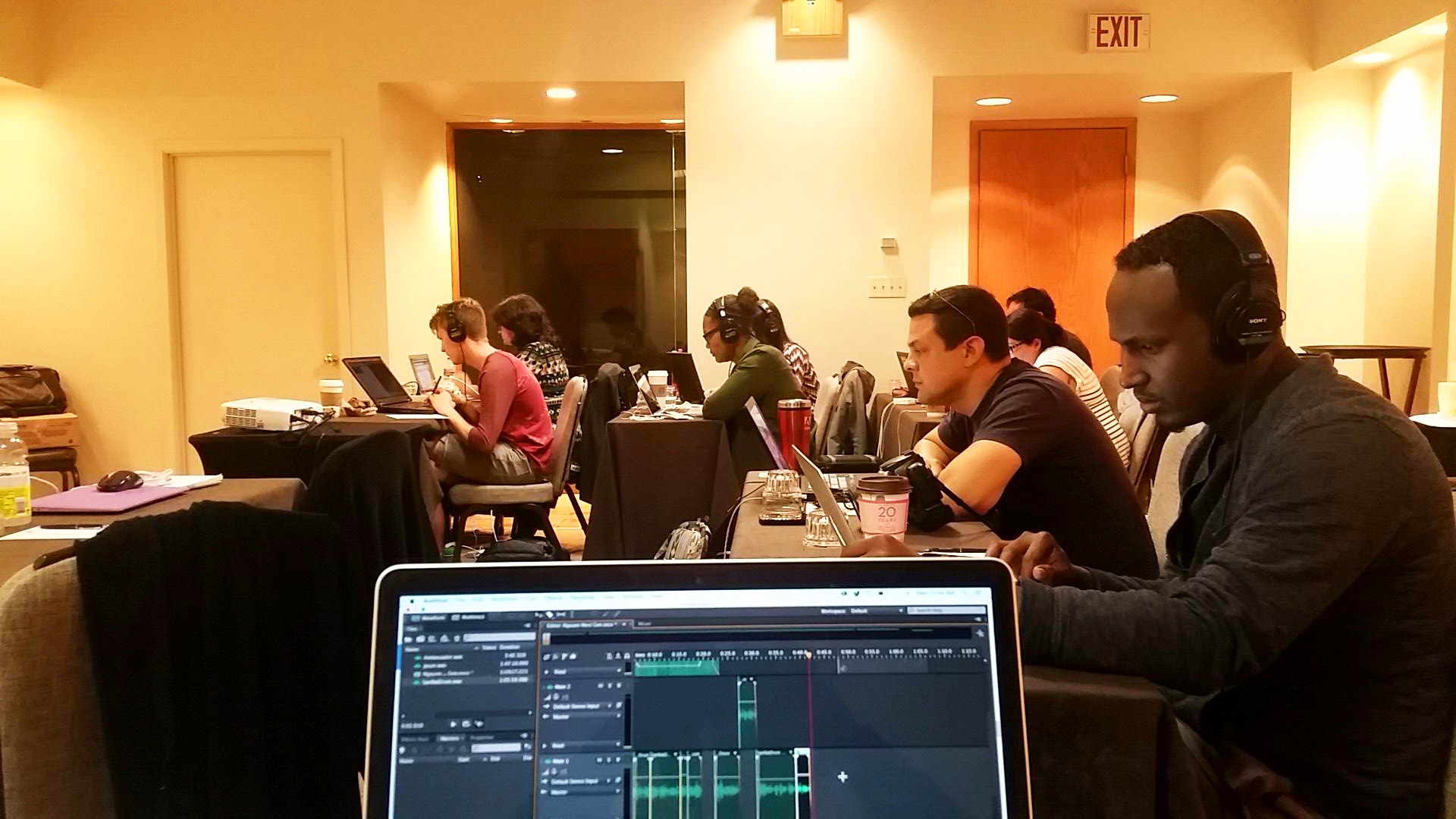 "Happiness is a direction, not a destination."
Continuous mouse clicking, furious keyboard typing, and heinous headphone hair.
Those three things sum up what went down inside the Harmon Room during Next Generation Radio at CBI 2015 in Minneapolis.
It was during the second day of the project when I listened back to the tape I collected from Santino Decory, my main interview subject and a sixth grader at the American Indian Magnet School.
Something you should know about Santino is he's a happy person. I felt his aura of happiness even seconds after meeting him. He's an 11-year-old with a pep in his step and a heart that beats in tandem with his spirit.
Here's what his biggest dream is:
Throughout the interview and editing process, I felt a feeling I couldn't shake off.
At first I thought it was surprise because this kid restated the questions I asked – which is ideal for a non-narrated radio piece, but not always natural for interview subjects. Or that feeling could've been relief for getting closer to finishing the story. But those didn't feel quite right. Listening to Santino's reply to, "What's your biggest dream in the world?" gave me the answer.
In Santino, I saw myself and realized that feeling was happiness.
It's as if my heart stopped for a moment. The feeling hit me in the chest then crept up to my throat. 3, 2, 1. Cue the waterworks. I turned to my mentor, Kyle Stokes, and told him to listen. He nodded his head in agreement, and I said with misty eyes:
"This feeling? This is one I'll never forget."
I stepped out for a moment, walked back inside and he said:
"That feeling? It doesn't go away."
Broadcast journalism is that career path I've chosen because of moments like these.
Four observations I've made about journalists in the industry:
They are older than they look. I can't tell you how many times I've asked their ages and been shocked by the responses – maybe there's a little extra something in the coffee they drink.
They all have really nice skin. Or, most of them do. Faces free of acne and looking smoother than a stick of butter – it's also probably because they're aren't pimply 19-year-olds, like me.
They seem to live by the motto: "Work hard, play hard." – 'nuff said.
They are quick-witted, funny people who love what they do – they're happy people.
Let me say that again, they're happy people.
I once came across a quote that said, "Happiness is a direction, not a destination."
The task of a journalist can't be easy. Always on the go. Late nights at work. Not all stories are happy – they can be adverse and emotionally draining. Regardless, they overcome the road bumps and continue to drive in the direction of happiness.
Not a destination, a direction.
Sitting in Harmon, I felt the support of the mentors and passion of my peers. Next Generation Radio is an intensive project.
Getting accepted is one thing, participating is another. It's fast paced, straightforward, yet unpredictable and in my case, breathtaking. However, all of us shared the struggle and success of finishing the stories we started with. And that's an unforgettable experience.
So what do I have planned after Next Gen? I'm not 100 percent sure, but like Santino: "My biggest dream is live a good life when I'm older."
I encourage you to listen to his full story and hope you find your direction of happiness as you do.