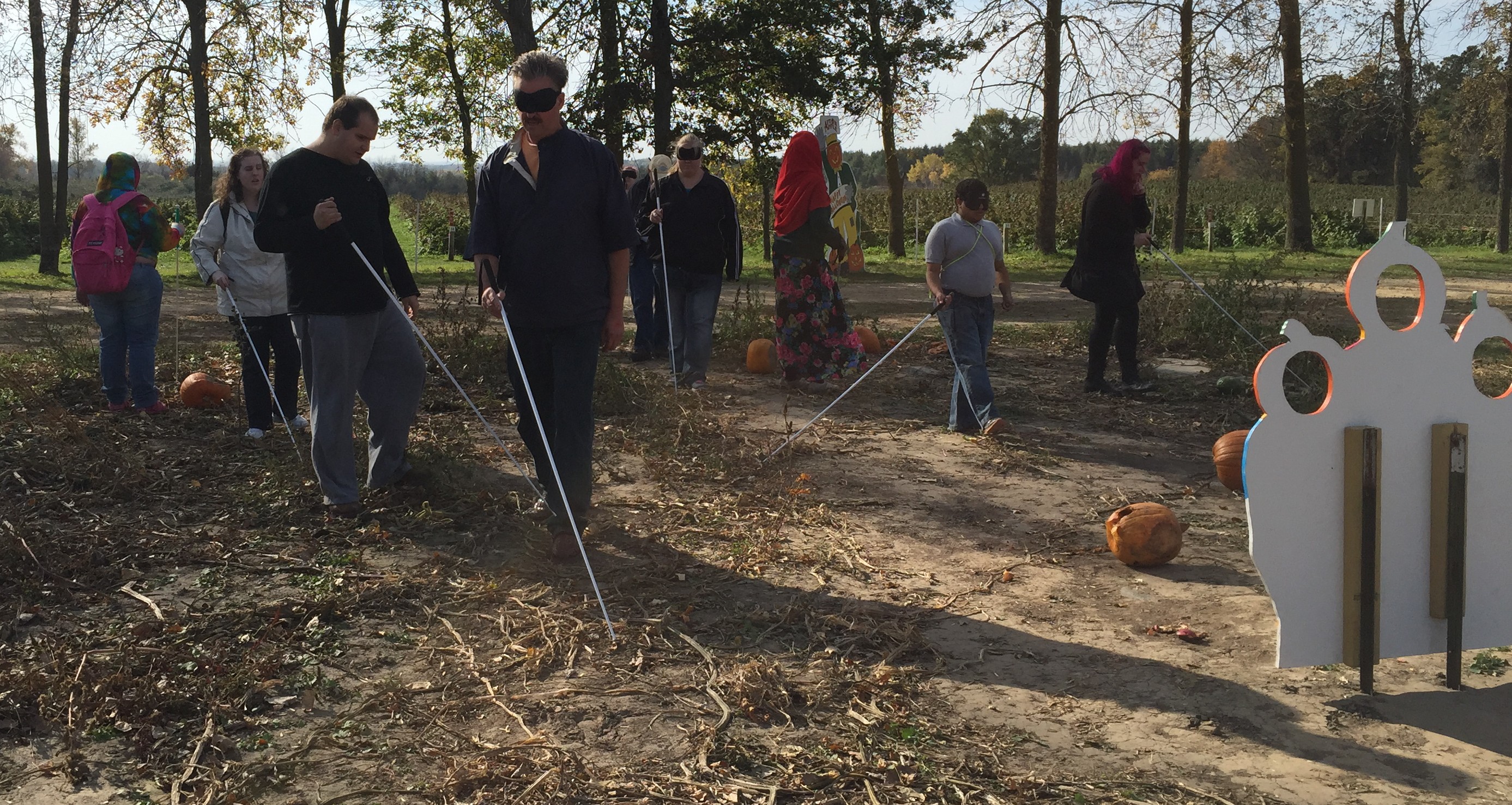 Let me state the obvious: It's hard to cram three days of reporting into four minutes of tape. Facts and sounds that we reporters love get left out.
My story about the organization BLIND, Incorporated is no exception. Staff members were so welcoming to my mentor Scott Tong and me as we reported onsite. They gave us open access to everything, everyone. I wish I could tell all the things they did done for us, all the ways BLIND Inc. prepares students for their next acts.
As one example, my radio story focuses on a big part of BLIND, Incorporated: teaching students — some of whom have relied on guide dogs or friends and relatives — how to become independent by traveling on their own. They cross downtown streets, identify buses, get lost and learn to recover. But there's far more to the organization, and to its students, than simply getting around.
BLIND, Inc. students take classes in home and personal management, industrial arts, cane travel, and career exploration. They don't just cross city streets and read braille (though, those are very useful skills); they cook with knives and hot stoves. They use power tools. Sometimes, they even go on excursions like dog sledding and rock climbing.
I joined them on one excursion: picking apples and pumpkins at Afton Orchards just outside Minneapolis.
Many students had never picked apples before, so BLIND, Inc. assistant director for employment Dick Davis gave an intro: once you select the apple, make sure it's an appropriate size. Then, after feeling for any rotting, bruises, or blemishes, and grab the fruit and twist. Even though walking through the orchard proved challenging — the terrain was rough and uneven, and students kept walking into a perimeter fence — BLIND, Inc. students filled three bags of apples to use in cooking classes.
We chose to profile a student close to my age, Leanne DeIuliis, 20 year-old from the Pittsburgh area. However, BLIND, Inc. also has programs for senior citizens.
Earlier in the week, we met two of these seniors. Doug Moody, who is slowly losing his vision, practiced walking up and down stairs with travel instructor Rob Hobson, who is blind himself. Hayden Le Claire made chili for lunch with instructor Jennifer Wenzel. She's blind, too.
We spent a lot of time with Moody and Le Claire in the kitchen, prior to enjoying a nice bowl of chili for lunch. Moody told me he prepares to lose his vision by exploring a particular mobile app. It tells him the colors of the shirts and pants in his closet, letting him pick a wardrobe instead of depending on his wife.
After lunch, student Leanne DeIuliis rang what BLIND, Inc. calls the Freedom Bell. A student rings it after a major accomplishment. DeIuliis rang to celebrate an industrial arts project; she finished making a drum.
It was exciting to see and hear all of the students in the building stop what they were doing, walk downstairs and congratulate her. Many banged on the drum. DeIuliis offered each a handshake and a word of thanks.
Seeing the BLIND, Inc. community come together to share a friend's accomplishment made me think: this is a story about independence, and how BLIND, Inc. helps students develop self-reliance.
But in a way, this program also lets students depend on each other, providing them with a supportive community.
BLIND, Inc. students bake birthday cakes for one another. They sometimes walk downtown together on cane travel assignments. They empathize with a fellow student who gets agitated when a sighted person calls a blind person "amazing" for accomplishing what they consider an everyday task, say crossing a street.
If I had more than four minutes, I would tell all of these stories and more. Unfortunately, the nature of the medium of radio is to compress time. A story can only fit in so many things without losing the listener.
Still, I hope to do the students and instructors, and their stories, justice.